Meet Dennise!
Allison Crimmins on May 8, 2017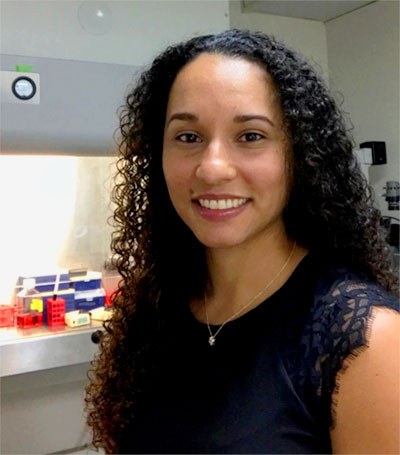 We are very pleased to announce that we have hired Dennise A. De Jesús-Díaz as Remedy Plan's Director of Scientific Operations!
Dennise will be providing project leadership for our scientific operations to ensure our drug development process continues to move forward efficiently. We are excited to bring Dr. De Jesús-Díaz on board and we know that her competencies in cell biology will be a key asset in our fight against cancer.
"Remedy Plan is excited that we recruited a rock star scientist from the National Institutes of Health to be our Director of Scientific Operations. Dennise has over a decade of experience in cell biology, genetics, and high throughput screening, and even has management training," says Remedy Plan CEO Greg Crimmins. "She has stepped into Remedy Plan without missing a beat, and is already accelerating our research program."
Dennise discovered science at an early age playing in the mountains of Puerto Rico. However, her scientific career started as an undergraduate student at the University of Puerto Rico at Cayey where she participated in research programs both in Puerto Rico and in the United States.
After graduating magna cum laude with a Bachelor of Science degree in Biology, Dennise participated in a post-bachelor internship at Tufts University in Boston, MA. Through this opportunity, she acquired crucial skills – like high-throughput development, screening, and candidate hit selection – that she now brings to the Remedy Plan mission.
Dennise holds a Ph.D. in molecular microbiology from Tufts University School of Medicine. While studying host-pathogen interactions as part of her doctoral thesis, Dennise became proficient in the fields of cell biology and cell cycle regulation. During her graduate studies, Dr. De Jesús-Díaz received numerous awards for her research including the National Research Service Award by the National Institute of Allergies and Infectious Diseases and the Biomedical Science Program Hope Scholarship.
As a Postdoctoral Fellow at the National Institutes of Health (NIH), Dr. De Jesús-Díaz gained invaluable knowledge in stem cell biology and in the development of human-derived structures that resemble whole organs, for which she received the prestigious NIH Fellows Award for Research Excellence.
"I'm really excited to be part of the Remedy Plan team," says Dr De Jesús-Díaz. "We can learn a lot by looking for alternatives in cancer treatment, but I really believe that Remedy Plan's strategy would change the way we approach cancer".
Working at Remedy Plan is not only scientifically exciting for Dennise, but also represents a personal goal, since she saw firsthand the devastating effects of the lung cancer that led to her grandfather's death. In addition to her scientific interests, Dr. De Jesús-Díaz believes in the power of fostering future generations of scientists. She currently serves as an Adjunct Professor at George Mason University and as a S.T.E.M. mentor for the Next Scholar Program from The New York Academy of Sciences.
And get this! We didn't even force her to say this:
"Greg [Crimmins] is a person with a great sense of humor, but more importantly I commend his capacity to think critically and listen to ideas. I respect his scientific inputs and his dedication towards bringing Remedy Plan to what it is today. I am sure our skills will complement very well to move Remedy Plan forward. We will be a great team".
Welcome to the team, Dennise!